ROCKY Fully Rugged Laptops
Whether you choose a 13.3, 15.6, or 17-inch display, your combat-proven AMREL rugged laptop pc has been engineered for toughness and flexibility.
AMREL – Proven leadership
In1989, AMREL introduced the first rugged laptop / notebook in the US. Since then, we have taken the lead in pushing this form factor to its most extreme limits.  Not only does AMREL sell the RS11, the lightest, thinnest rugged laptop in the world, but also our RF10 has the biggest display on the rugged notebook market.
Toughness you can count on
Warfighters, police officers, miners, and construction workers rely on AMREL's rugged laptops to perform in the harshest conditions. From the urban streets of America to the battlefields of Asia, AMREL laptops have proven themselves time and again.
AMREL military-grade rugged notebooks are not "semi" or "business" tough;" they are fully rugged.  They are independently certified for the environmental standard of MIL-STD 810 and the EMI standard of MIL-STD 461.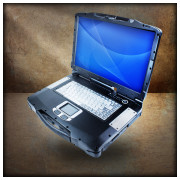 RF10's one-of-a-kind 17.1"display is perfect for today's video, situational awareness, mapping, and other big picture applications.
Unique design
The most striking example of AMREL's "going the extra mile" on ruggedness is our unique Fault Tolerant Isolation Design – an encapsulation process that protects individual components from water, dust, and other foreign matter. Analogous to a submarine, each chamber in the body of ROCKY notebooks is individually sealed.
In addition to supplying an extra layer of protection, the chambers of the Fault Tolerant Isolation Design also restrict the spread of whatever damage that does occur. Damage that may normally destroy an entire unit is now limited to easily replaced sections. The Fault Tolerant Isolation Design provides extra durability and reduces repair costs
COTS, Customized COTS, and Customization
AMREL offers you choices, not problems.  Whether you want off-the-shelf, complete build-to-spec, or anything in-between, we will help you meet your requirements.
Especially popular is our "customized COTS option." Our extensive customization capabilities combined with our proven line of products means low NRE, and fast turnaround, even for low volume orders. We are the only computer provider that extends manufacturer's guarantee to customized units.
The Flexpedient Revolution
AMREL laptops are Flexbay™ capable.  This unique patented technology lets you run multiple applications on a single platform via Application Modules. Flexpedient technology has been combat tested in Afghanistan and Iraq.