This Product has reached EOL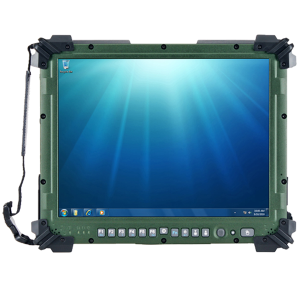 ROCKY DK8 Rugged Tablet
ROCKY DK8 tablet anywhere, anytime. In the battlefield, office, or plant, get the convenience of a tablet with the durability required for harsh environments.
Big screen with a compact form factor. The ROCKY DK8 is ideal for on-the-move operations and limited-space applications.
The connectivity you require. RS-232 and USB ports, as well as optional adjustable stand for port expansion.
The ruggedness you need. Independently certified for MIL-STD 810, MIL-STD 461, and IP-65, the ROCKY DK8 improves your ROI by decreasing costs associated with broken computers, data loss, and lost work time.
The specs you must have. Don't compromise. AMREL can customize the ROCKY DK8 to your exact needs and extends the manufacturer's warranty to modifications we perform.
Environmental Rating: MIL-STD 810F, IP-65
Military Package:  (Optional) NATO Green, MIL-STD 461E, Metal Twist Lock Amphenol (621N Series) Power Connector, Operating temp. -20°C to +50°C
Operating System [1]: Windows® 7 Professional 32-bit
CPU: Intel® Core 2 Duo™ T5500 1.66 GHz Processor 533/667MHz FSB, 2MB L2 Cache
Memory: 2GB DDR2 667MHz
Graphics: Integrated 32-bit 3D/2D gfx core with 224MB shared RAM
Display: 12.1" XGA (1024 x 768) TFT LCD Sunlight readable, anti-reflective treatment
Storage:  500GB (5400 RPM) Removable HDD 2.5" high shock-resistant SATA HDD Max 9.5 mm height
Audio: AC97 sound and stereo speakers
Touch screen:  Resistive, polarized filters for anti-reflection
Weight: 5.5 lbs (2.5 kg)
Integrated Options

Wireless LAN
Intel Wifi 3945 a/b/g
Wireless WAN
Cinterion HC25, HSDPA
Wireless PAN
Bluetooth® v2.0+EDR
GPS
Ublox LEA-6H

[1] Computer is Linux compatible; WinXP downgrade available