ROCKY Fully Rugged Tablets
Your next rugged tablet is here
AMREL poured decades of experience into these rugged tablets, so you can get the capability you want with the portability of a tablet. These popular tablets have been customized as mobile radio solutions, magnetic swipe card POS systems, and a host of other applications. These fully rugged tablets are available with 8.4-inch or 12.1-inch inch screens. AMREL military grade tablets are independently certified for MIL-STD 810G ruggedness. For over 30 years, our tablets have operated successfully in the toughest conditions.
Perfect for marine & land vehicles. Sunlight readable (1000 nits) and night-vision compatible. Tough enough to get an enviable IP66 rating and comply with MIL-STD 810.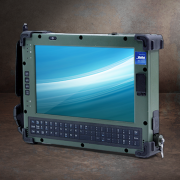 ROCKY DT10 rugged tablet combines tablet convenience with the functionality of built-in keyboard and the power of a Intel® Core™ i7 processor. It's sunlight readability is ensured by a 700 nit rating and optically bonded display.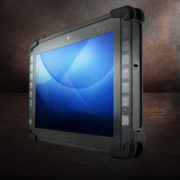 With a 1000 nits rating makes, it's easy to read even in the brightest sunlight.  Less than inch thick, it will fit anywhere. It's fully rugged and has great connector options.
A tablet that's a solution, not a problem
AMREL's fully rugged tablets are designed to be easily modifiable. Many other rugged tablets on the market lack the flexibility and real estate to be tailored to an application's specific needs.  Not AMREL tablets.  Whether you need a connector, an antenna, or an RFID added, customization at AMREL is a snap.
Ideal platform for product development
Our core capabilities include rapid prototyping that is economical even for low-volume orders. Our rapid turnaround and low NRE enable you to have a physical sample at every stage of the development cycle.
Nothing semi about our rugged tablets
Many so-called rugged tablets do not actually meet the military standards that are listed in their specifications.  They claim to be "semi" or "business rugged," which are meaningless marketing terms.  AMREL has its platforms certified by interdependent agencies.  Plus we have years of experience in supplying thousands of working units that have reliably operated on battlefields around the world.  Warfighters, policemen, and industrial workers know they can rely on our tablet's legendary toughness.
Rugged makes business sense
More and more enterprises are coming to the same conclusion; they can't afford not to buy rugged. Rugged tablets are less prone to break down, which means reduced downtime, fewer expensive repairs, and less lost data.  Although the purchase price of a rugged device may be more than its non-rugged counterpart, this initial cost is actually a small part of the Total Cost of Ownership (TCO). In the long run, the bottom line demands fully rugged tablets.
The MIL standards you need
Many companies aim for compliance with the MIL-STD 810, the military's environmental standard, but AMEREL goes the extra mile.  Depending on your needs, AMREL will supply you with a tablet that meets:
MIL-STD-1553 (Aviation)
MIL-STD 461 (EMI)
ARMY Night Vision
MIL-STD-3009 (Aviation Night Vision)