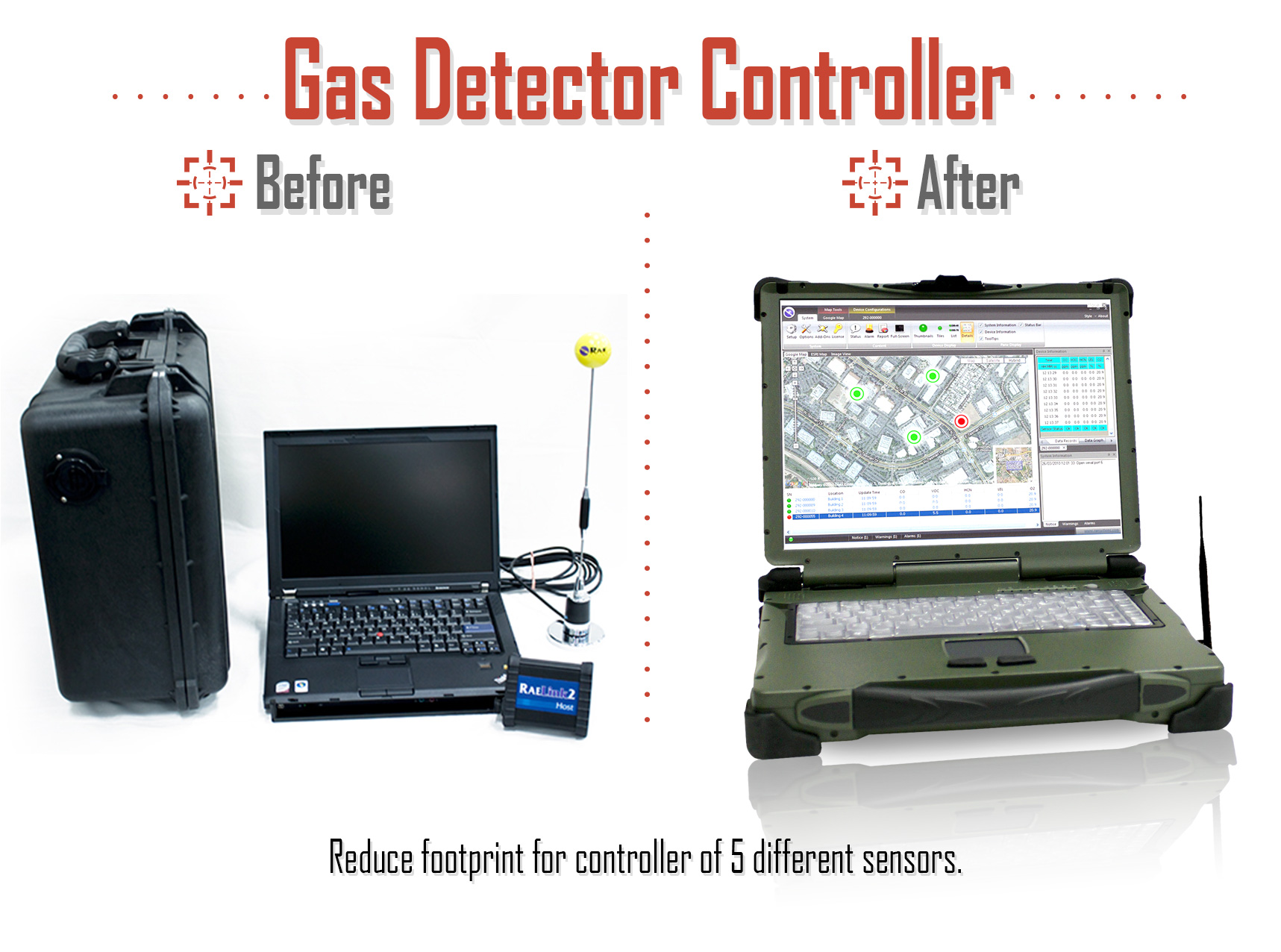 Customized Specs
Integrated module radio solution reduces footprint by replacing pelican case and eliminating peripherals
TTL interface
Freewave radio modem
LED light for transmit and configuration mode (red/green)
Reset button
Unmanned Ground Vehicles OCU
Reduced footprint and eliminated peripherals while extending range to increase operator safety.
Customized Specs:
Integrated radio card decreases onboard electronic interference
Interoperability achieved through swappable Radio Control Modules of 2.4 GHz, 4.9 GHz, DTC Modem, and Flexible Frequency Data Link
Also used for Tactical Unmanned Aerial Vehicles and Unmanned Underwater Vehicles
TRL of 9
Industry/Markets
Defense, Law Enforcement, Homeland Security
Flight Line Control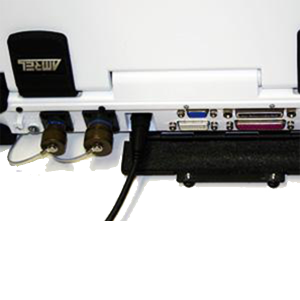 Reduce Flying Unidentified Debris (FUD) Control. Process data and reprogram missiles.
Customized Specs:
Metal covered ports & peripherals protect against flying debris
Integrated 2 x Military Connectors for real-time data capture
Industry/Markets
Aviation, Defense
Integrated Radio System
Fully rugged notebook with integrated mobile communications system engineered to performs in harsh environmental conditions.
GPS connection,
19pin military connector with RS232
DC power / grounding
Industry/Markets
Defense
RP Flight Spectra OCU
Reliable command & control ground station through AMREL Rocky notebook.
RP Flight Systems
900 MHz control frequency (Radio Module bay device)
Radio Control Module configured to 2.4 GHZ for image/data analysis
U-Blox GPS built-in Antenna
Video output
Ibis Tek UGV OCU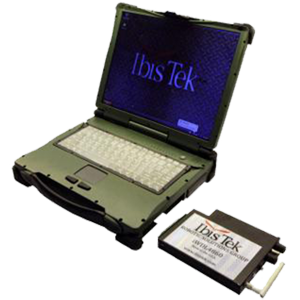 Audio, video and command & control data via AMREL Rocky notebook for multiple UGV platforms.
Ibis Tek
Created Radio Control Module casing for Flexible Frequency Data Link
Swappable modules for common control
Intelligent frequency agile bi-directional wireless data link
Watch:
AGT MARCBot OCU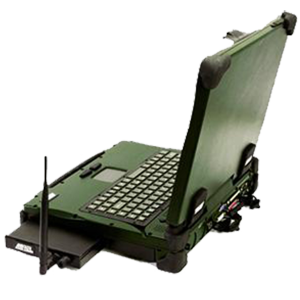 Reduced footprint and eliminated peripherals while extending range to increase operator safety.
Schaffer Engineering – AGT
Harden Radio Control Module decreases internal electronic interference
Operator range extended beyond Military's expectation
Radio Control Module is field swappable
Small footprint
Read about:
Concrete Screed Control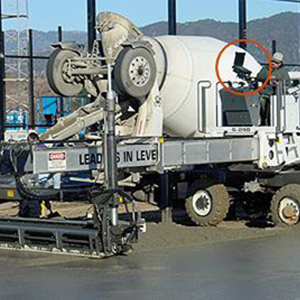 Three-dimensional machine control system allowing concrete to be placed over contoured sites. Utilizes automatic surveying and leveling functions for maximum accuracy. Successfully operates when subjected to extreme temperatures, powerful shocks, humidity, unexpected rain, and strong vibration.
Modified parallel port to run CAN bus interface
DME Viper/T Testing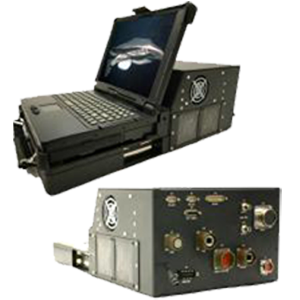 Integrated Communications system with laptop functionality and 7PCI
DME
Customized docking solution
7 PCI ports on docking solution
Full laptop functionality including complete Windows environment
Video capture
Gigabyte LAN
Independent UPS for graceful shutdown
VXI analog, digital and RF instrumentation
ATLAS test language
Read about:
Lockheed COLT Testing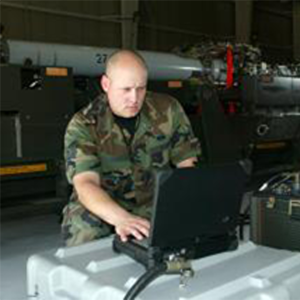 Portable Display Controller Unit (PDUC) for COLT Tester, a multiple application-based testing platform for F-22 and B-2 aircraft.  Performs maintenance duties and tasks that verify the operational capabilities of an aircrafts' electronic system.
Lockheed Martin
Added special military connector
Added 32GB Solid State hard drive
Extended range of temperature operation
Siemens Vehicle Control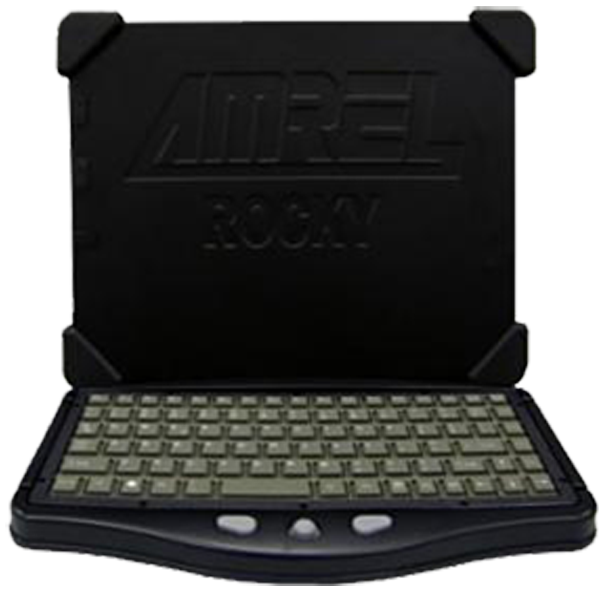 Used as command and control system for Bucyrus mining and excavation vehicles.
Siemens / Bucyrus
Customized RT8-I case to closed "brick" form factor to fit under driver seat
Migrated power switches to side of system case
Migrated LAN port to opposite side of system case
Sealed remaining expansion ports
Read about: